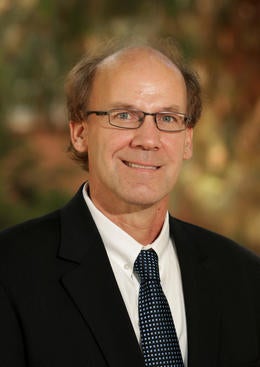 Contact Information:
Daniel Jeske
2121 Hinderaker Hall
Phone: (951) 827-2304
vpap@ucr.edu
To schedule the Vice Provost for Academic Personnel, contact Alice Tsarev (alice.tsarev@ucr.edu).
About the Vice Provost for Academic Personnel
Dr. Daniel R. Jeske became Vice Provost of Academic Personnel (VPAP) on July 1, 2020.  The excellence of the UCR faculty is the cornerstone of the University, and the VPAP plays a critical role in assuring that faculty accomplishment is promoted, recognized and rewarded in the merit and promotion system. Accordingly, the VPAP is a member of UCR's senior leadership team and has an important role in representing faculty interests at this level.  The VPAP serves as the senior campus official with substantial responsibilities in the areas of (1) academic appointments, merits and promotions; (2) academic recruitment and retention; (3) the promotion of faculty diversity; (4) faculty development; (5) non-senate academic employee and labor relations.  The office of the VPAP works closely with other campus offices including the offices of Campus Counsel, Chief Compliance Officer, Ombuds, Academic Senate, and Human Resources.
Dan is a Professor in the Department of Statistics and was the Department Chair from 2008 to 2015. Other campus service he has been involved with include two years as the Vice Provost of Administrative Resolution, two years as Chair of the Academic Senate Committee on Faculty Welfare, and five years as the UCR Faculty Athletics Representative.  He coordinates U.S. Navy and other industry outreach efforts for the Department of Statistics.  He is an elected fellow of the American Statistical Association (ASA) and served a three-year term on the ASA Board of Directors.  He is an elected member of the International Statistical Institute (ISI) and is the President for the International Society of Business and Industrial Statistics (ISBIS), a society of ISI.  He is the immediate past Editor-in-Chief of The American Statistician, an Associate Editor for Applied Stochastic Models in Business and Industry, and a member of the Board of Trustees for the National Institute of Statistical Sciences.
---
VPAP Office Hours
The VPAP is available to academic faculty and administrators through campus office hours.
 
VPAP Campus Office Hours are every Monday, 5pm-6pm
Join Zoom Meeting: https://ucr.zoom.us/j/6754437026
The zoom link is set up with a waiting room so that one person can be admitted at a time to enable confidential conversations when necessary.
---
VPAP on Tap
Click here for conversations and reflections on the academic life at UCR.