Professional Development Fund
In accordance with the Unit 18 contract negotiated by the UC-AFT, the University has created a fund for professional development for Unit 18 faculty members (e.g. represented Lecturers, Supervisors of Teacher Education). Individual Unit 18 faculty will be eligible to submit requests for funding to support proposals for professional development including but not limited to professional meetings, training seminars, software and paid leave, all of which should be in support of pedagogical endeavors.

Additional information about the professional development fund may be found within Article 9 of the MOU.
Eligibility
Any Unit 18 faculty member who has or had an appointment during the quarter(s) in which the professional development activity takes place is eligible. All eligible part-time and full-time Unit 18 faculty are encouraged to apply, and the Council welcomes collaborative applications, such as proposals for joint projects at conferences and requested support for co-authored publications.

Quarterly Unit 18 faculty without continuing status or an annual contract may receive funding for activities that occur during the summer months if they have an appointment in the Spring Quarter of the previous academic year and the Fall Quarter of the subsequent academic year.

For a list of the eligible represented Unit 18 title codes, please review Article 1-Recognition.
For list of the Unit-18 Faculty Professional Development Fund Committee Members (pdf).
Important Dates
Application Guidelines
Application Forms
Award Reimbursement Process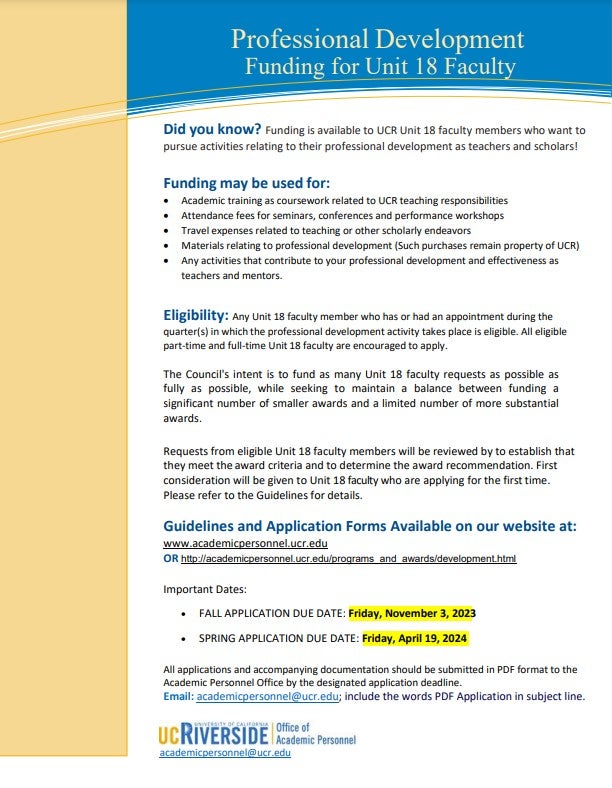 For questions or additional information, please send an email to academicpersonnel@ucr.edu